Regular Weekly Service – Sundays @ 5pm
Location: Envision Center, 15055 Oxnard St, Van Nuys, CA 91411
Time: Sundays @ 5pm
Official Launch Christmas Service – December 20th, 2020 – Sunday 5pm
You don't want to miss our Christmas service and Grand opening service. We will be having a great prophetic praise and prayer service centered around the Christmas message. We will be having a Christmas meal as well. Come join our new church and be apart of the start of Rock Solid Church of The Valley.
Location: Envision Center, 15055 Oxnard St, Van Nuys, CA 91411
Time: Sundays @ 5pm
RSgroup – Home Bible Study – Thursdays 7pm
Our church in the South Bay is meeting in person at our pastors home for a great bible study every Thursday @ 7pm. We are meeting at 2275 W. 25th St, San Pedro, CA 90732. You can come join us in person or on Zoom.
If you can't make it join us on ZOOM by CLICKING HERE
Kids Ministry (ages 3-12)
At Rock Solid Church "we love kids." Your kids will not only have fun but they will be taught to stand strong in their faith for Jesus Christ. They will learn to be loving, caring and responsible kids. If you desire to learn more or want to get involved please talk to Silvia Jiminez.
Student Ministries (10-19)
The Rock Solid youth are currently meeting in San Pedro every Friday Night @ 6:30pm. If you want to make the drive your youth can join us at 2275 W. 25th St, San Pedro, CA 90732. We are currently working on another youth group in the valley. Stay tuned.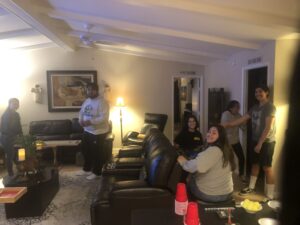 There is more to come. Connect With Us Today…
Shoot us an email or give us a call. We would love to speak with you and show you around our offices and campus. If you would like to set up a meeting to speak to our pastor you can do that as well.