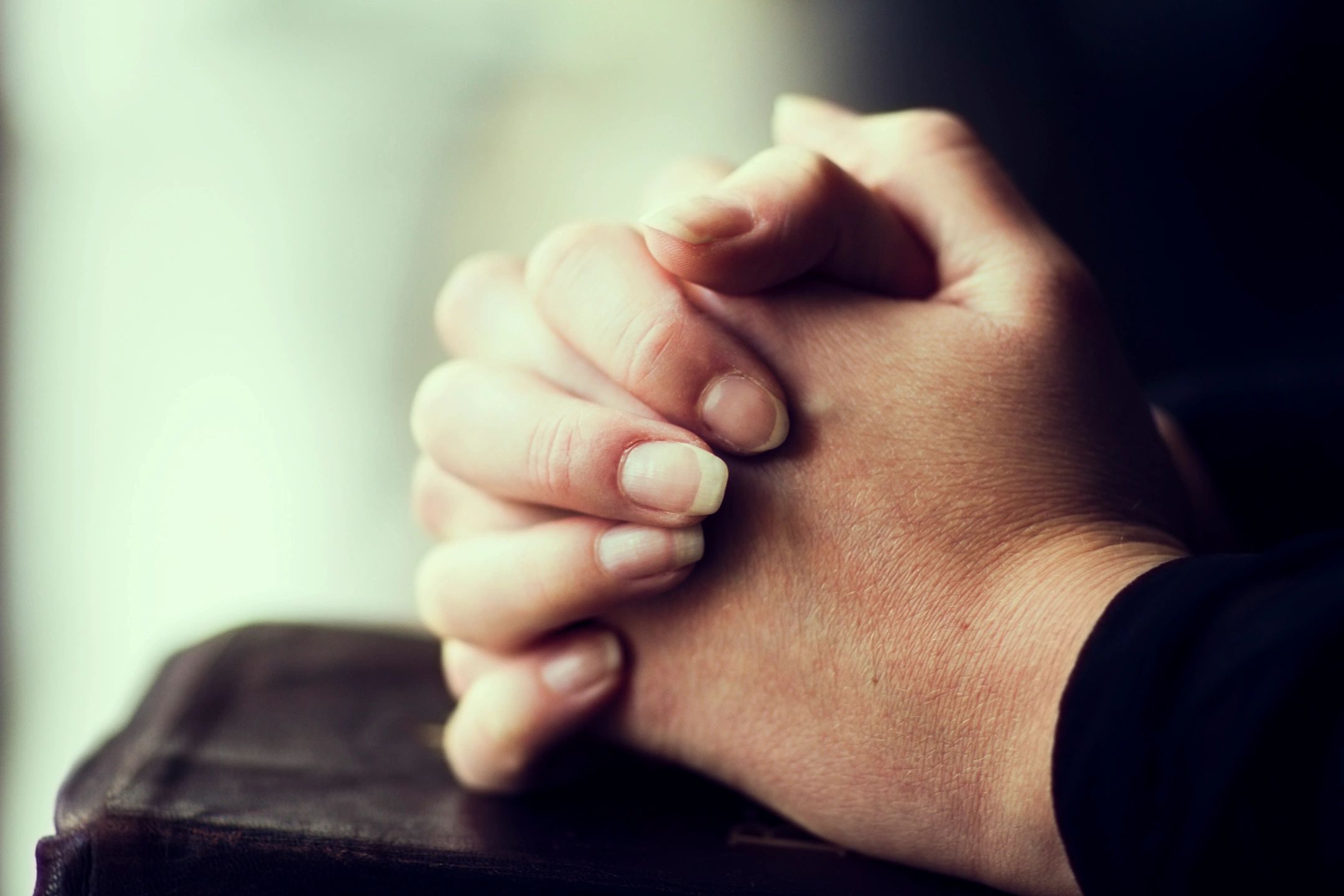 JANUARY 2021 FOCUS
Join us for 5 special services in January as we learn how to pray. We will be looking a variety of passages of scriptures that will teach us the power of prayer, why fasting in important, how to hear from God and much more.
We will also begin our 21 Day Daniel Fast on January 10th and end it on January 31st. Join us for this powerful time of seeking the Lord and growing our faith.
What is the Daniel Fast? It is a special fast done by the Prophet Daniel in the bible. He set aside time to pray and seek God while only eating, Fruits, Vegetables, Nuts, Beans, no sure, no meat, juices and water.   Join us on the Sunday the 10th to start this fast.
NEED PRAYER OR A MIRACLE?
SEND US AN EMAIL AND OUR PASTOR AND PRAYER TEAMS WILL PRAY FOR YOU.
ENTER YOUR PRAYER HERE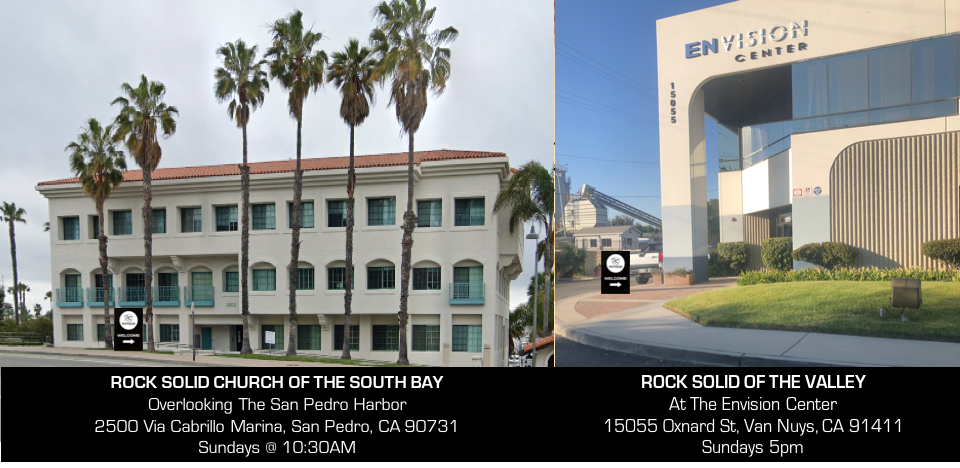 NEW TO ROCK SOLID?
WE HAVE 2 CAMPUSES.
SOUTH BAY CAMPUS
The first is Sundays at 10:30am at our South Bay Campus. The address is 2500 Via Cabrillo Marina, San Pedro, CA 90731. (Park in the Double Tree Hotel parking lot. Our building is to the left. Look for signs and attendants).
THE VALLEY CAMPUS
The Second is Sundays at 5pm at the our Valley Campus. The address is 15055 Oxnard St, Van Nuys, CA 91411 .
WE ARE CURRENTLY MEETING AND COVID FRIENDLY. MASKS AVAILABLE AND HAND SANITIZER.
KIDS MINISTRY AVAILABLE
Join us in person for worship every Sunday at 10:30am at our South Bay Location or at our Sunday 5pm at our Valley Location. Can't make it? You can still join us the following ways: FACEBOOK LIVE (CLICK HERE) - Sundays at 10:30am & 5pm ZOOM LIVE WITH OTHERS (CLICK HERE) - Sundays at 10:30am and 5pm CALL IN AND LISTEN by calling 1-669-900-9128 (Use ID: 957 0061 2770)
RSgroups - THURSDAY NIGHT BIBLE STUDY @ 7PM
TAKE YOUR FAITH DEEPER THIS YEAR.
We have dinner, fellowship, worship and a great bible study. We are currently in the book of Daniel.
WE MEET AT OUR PASTORS HOME @ 2275 W. 25th St, San Pedro, CA 90732
JOIN US ON ZOOM AT BY CLICKING HERE or call 1-669-900-9128 (Use ID: 957 0061 2770)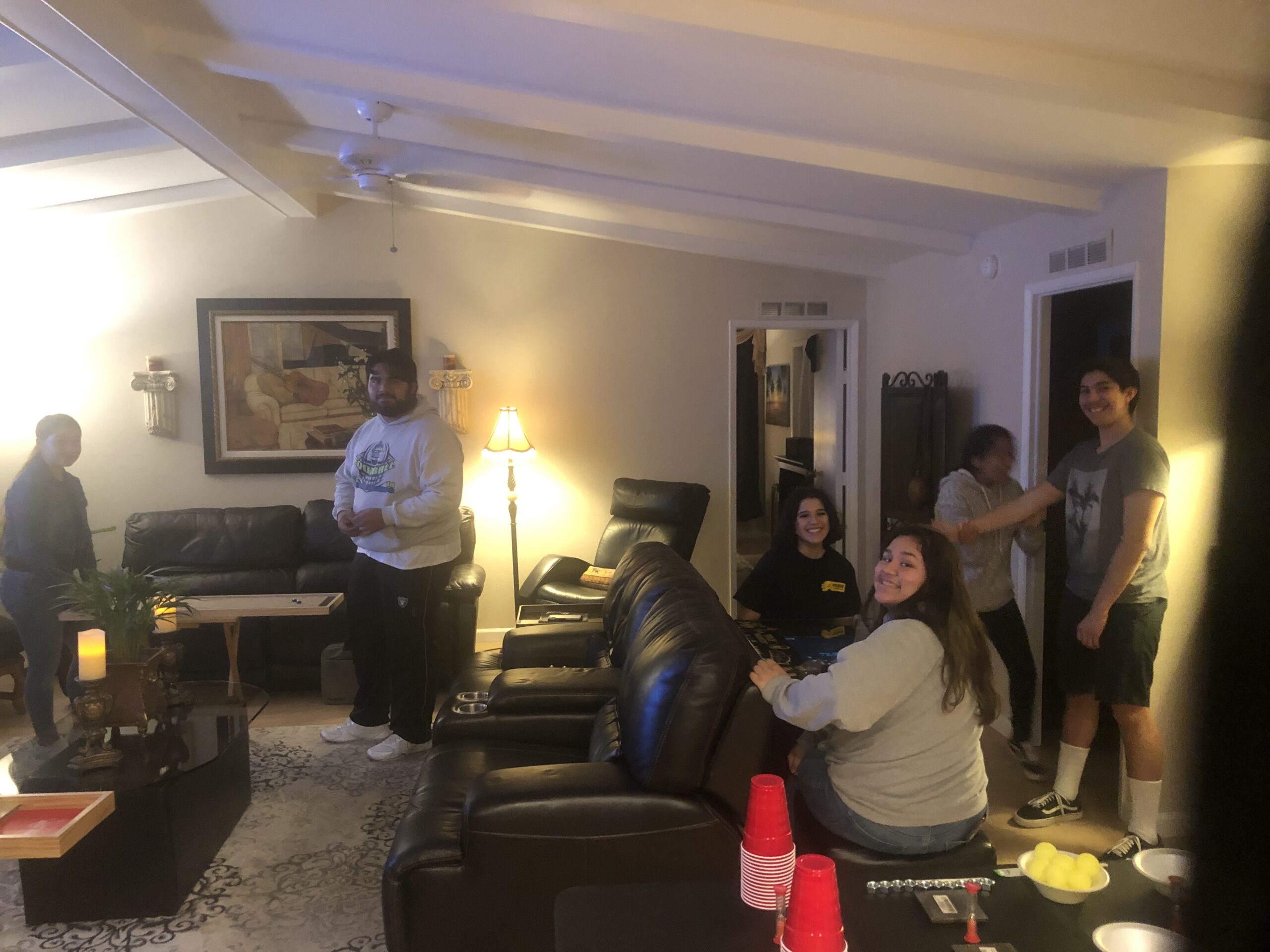 FRIDAY NIGHT YOUTH
WHEN DO YOU MEET?
Fridays @ 6:30pm to 9pm
WHERE DO YOU MEET?
We meet at our pastors home at 2275 W. 25TH St, San Pedro, CA 90732
WHAT AGES CAN COME?
Ages: 10-19
WHAT TO EXPECT?
Video games, outdoor games such as badmitten, miniature golf, bean bag toss and more. We have dinner and a bible study geared for youth.
HOW TO DONATE AND SEND IN YOUR TITHES?
Thank you for your support and prayers during these unprecedented times. Together we stand to will prevail over the Corona Virus Pandemic. It is faithful partners and givers like you that make Rock Solid Church such a great community to belong to.  There are three ways you can give.
See All Events Here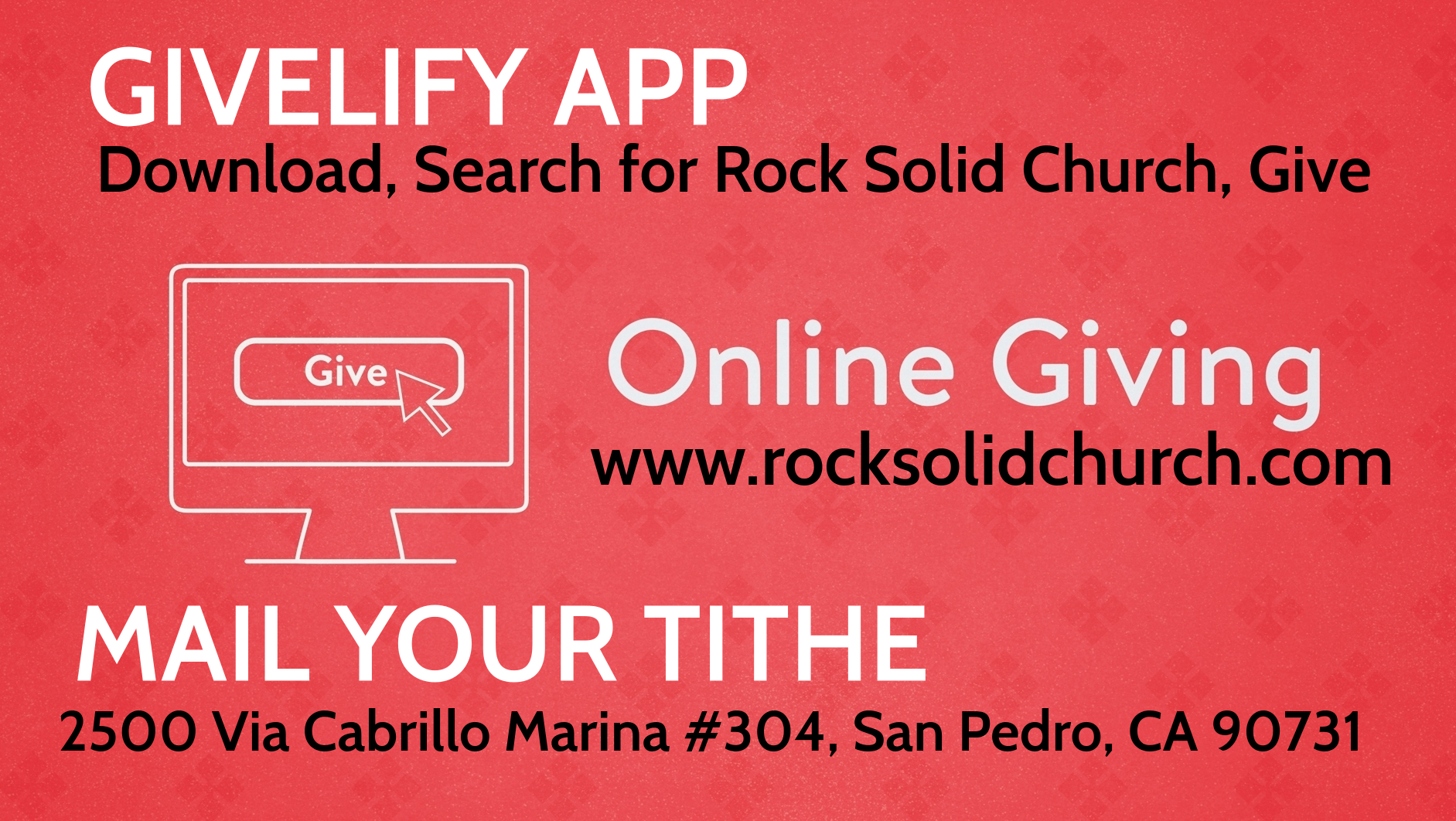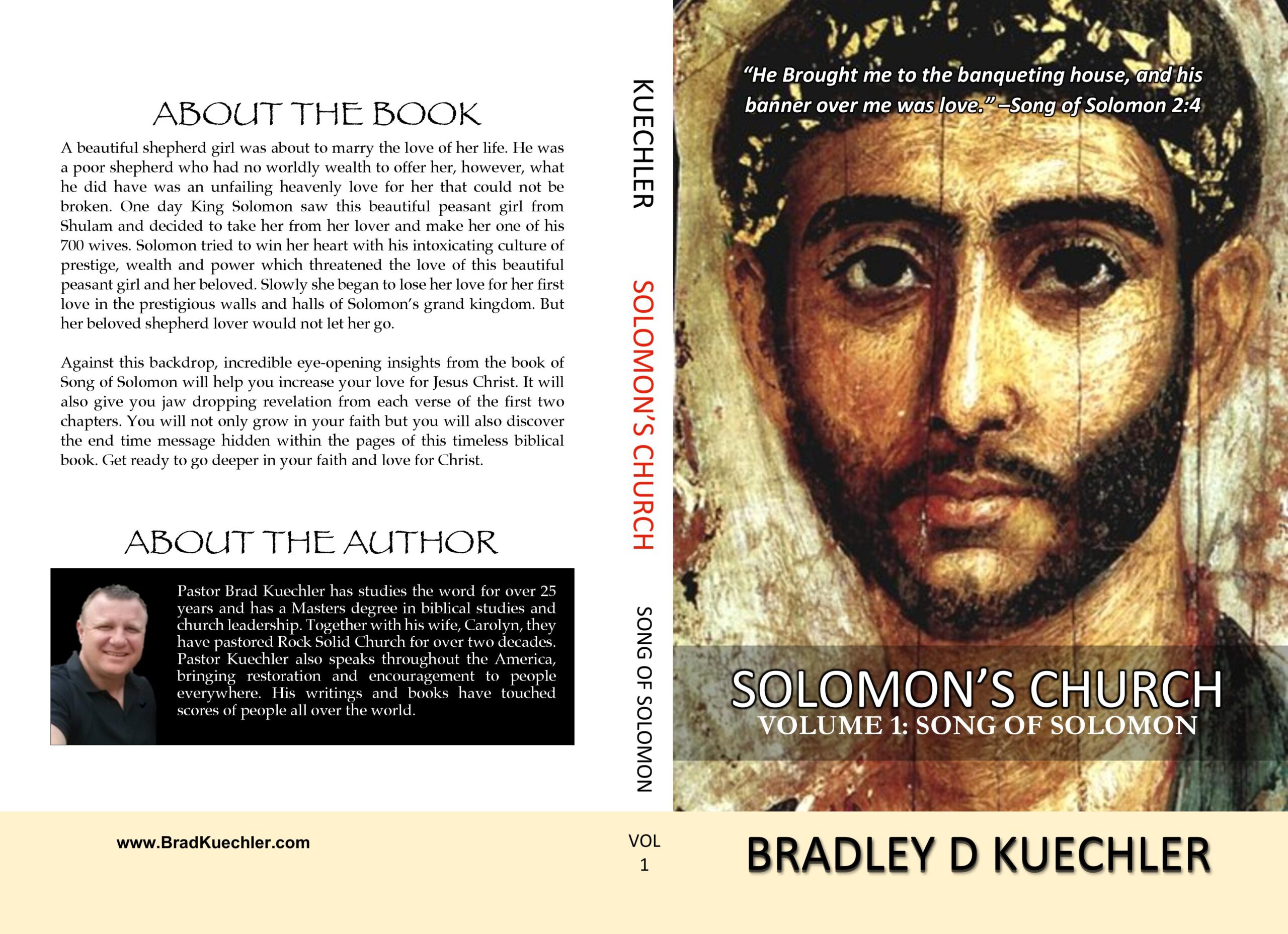 Pick up our Pastor's newest book today!
About The Book
Solomon Church is a Prophetic Revelation and Epic Love Story through the Song of Solomon. However, it is not just a series of books it is a life changing experience into the heart of God. It contains personal wisdom, deep revelation, eye-opening insights and a clear pathway to help your love for Jesus Christ grow even deeper. There will be four books in this series that starts with Volume 1: "Escape From Solomon's Church," which is 290 pages of revelation, personal insights and life-changing wisdom to strengthen your faith.
BOOK REVIEW
Solomon's Church reintroduces Song of Solomon to a Christian world who has mostly ignored and wrongly minimized this book of the Bible. It is a powerful word for the church today to judge what fruit we are seeking and to hear the call, "Return to our rst love." –Pastor Steve Franks, Kings Chapel, Kauai, HI
PURCHASE THIS BOOK OR MANY OTHER OF PASTOR KUECHLER'S BOOKS HERE