Kids (Ages 0-12)
SUNDAYS @ 10:30AM
We love kids! Our passion is to teach kids about the love of Jesus Christ and help them develop a strong biblical foundation for life. We have some of the best Children's directors in the area. You can rest assured that all our kids workers have a background check before working with our kids and receive training. We encourage you to arrive at least 15 to 20 minutes prior to service to sign in your kids. You will receive a number that will be associated with your children. You will need to bring that number to pick up your children after service. All our kids worship together in their own service during the adult worship time. The first Sunday of each month is kids day where our kids are in the adult worship service for the worship and communion part only. They help with ushering, announcements, taking the offering, worship and more. Our rooms are kid friendly and is called "Bibleland." If you would like to help with the kids ministry come and be a part of the Rock Solid Family.
Student Ministries (Ages 10-17)
THURSDAYS @ 6:30PM AT ROCK SOLID YOUTH CENTER (2500 Via Cabrillo Marina #304, San Pedro)
Our youth ministry meets every Tuesday night at our youth center. They meet from 6:30pm-8:30pm and have a fun time eating food, learning the bible and fellowshipping with other youth. We also offer worship training where our youth learn to sing and even play an instrument. We are developing worship teams with our young people. We are also working on Rock Solid Student Ministries choir where our young people will learn valuable lessons while they learn to worship God. Stay tuned for our monthly outings and community activities.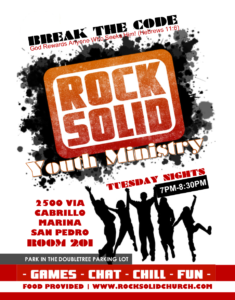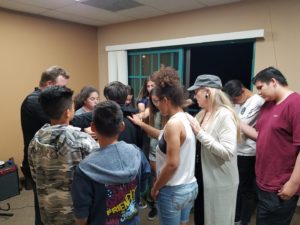 Adults (Ages 19+)
WE HAVE SOMETHING FOR YOU!
We have many opportunities for adults to grow their faith and connect with new people. Get connected to a small group and grow your faith. We have Men's groups, women's groups, home groups and more. We also have many events, retreats and outings throughout the year.
Something for everyone!
If you are looking for a church where you can grow your faith, learn the bible get connected to a family of believers come to Rock Solid Church.
Other Ministries and Opportunities
School of Discipleship (Thursdays @ 7pm-8:30pm) (diploma offered)
Music Ministry (Ask For Details)
Food Outreach (Sundays: ask for details)
Community Outreach (Ask for details)
Missions Trip (Stay Tuned)
Pick people up for church (Sundays… ask for details)
Arts/Flag/Worship Dance (Sundays @ 10:30am)
Media/Sound/Social Media/Facebook Live (Sundays 10:00am & Thursdays 7pm)
Prayer Ministry (Ask for details)
Hospitality & Follow Up Ministry (Sundays @ 9:45am & Tuesdays @ 6pm)
New Ministries (You can start a ministry. Call the office for details)
Connect With Us Today…
Shoot us an email or give us a call. We would love to speak with you and show you around our offices and campus. If you would like to set up a meeting to speak to our pastor you can do that as well.